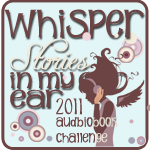 Room by Emma Donoguhe
Will Grayson, Will Grayson by John Green & David Levithan - 7 hours 52 minutes
Darkfever by Karen Marie Moning - 8 hours 57 minutes
Bloodfever by Karen Marie Moning - 9 hours 3 minutes
Faefever by Karen Marie Moning - 9 hours 50 minutes
Dreamfever by Karen Marie Moning - 12 hours 16 minutes
Shadowfever by Karen Marie Moning
The Help by Kathryn Stockett - 18 hours 19 minutes
Lover Revealed by J.R. Ward
Lover Unbound by J.R. Ward
Lover Enshrined by J.R. Ward
Lover Mine by J.R. Ward
Running total: 66 hours 14 minutes
This list is a work in progress and is subject to change.
Challenge Guidelines:
• Please create a blogpost announcing your participating, you can include the books you are planning to listen to, but you don't have to. People without a blog just leave a the link to where you will be posting your reviews (i.e. your Goodreads account). Please add the Links to the post in Mr.Linky form below.

• Every month, starting in January we have a new post up for you where you can post your Reviews for that month. A Mr Linky form will be up for you.

• Although one review is the minimum to be entered, the more reviews you post each month the more chances you get to win the monthly prize. The monthly prizes includes giftcards from where you can buy audiobooks - like Amazon, iTunes, Barnes&Nobles and Audible. Plus, we will also have some MP3 players in the monthly prizes and other stuff that has something to do with audiobooks. You know how we Bookworms like to get creative with the prizes....

You can pick the audiobooks as you go (no need to decide right now), but if you have already an idea what you're planning to listen we would absolutely love to know!
Hosted by
Bewitched Bookworms
.